Eight Arms of Inspiration
is an octopus themed art book scheduled for printing next month, and one of my illustrations is featured in its pages! I'm thrilled to be a part of this book and have been looking forward to its publication all year. Jinxi Caddel is the fabulous author behind the project. After dreaming up the concept, she found and interviewed cephalopod-loving artists all over the world to showcase in one beautiful volume. Jinxi has been absolutely lovely to work with, and I cannot wait to see the book in person!
There is a write up on
Eight Arms of Inspiration
in
Ink Fashion
magazine this month. Check it out if you get a chance! It tells a little more about the project, and shares a sneak peek of the cover.
You can read more about the
Eight Arms of Inspiration
project
here at its website
(such as, did I mention 10% of the book's profits benefit keeping art education and creativity in schools?) And if you visit its
Facebook
, you'll find photos of the gorgeous paintings, pencilings, inkings, illustrations, sculptures, tattoos, and more that were selected for the book!
My "
Octopus Drinking Tea
" painting is my illustration that made it into the book. It's watercolors and pencil on tea stained paper. It's a little different from many of my other paintings, because there is no ink (ironic for an octopus painting, right?) and I only break this paper out for special pieces. I have a limited stash of it. It is smooth, rich, velvety, and REALLY difficult to work with. I love it.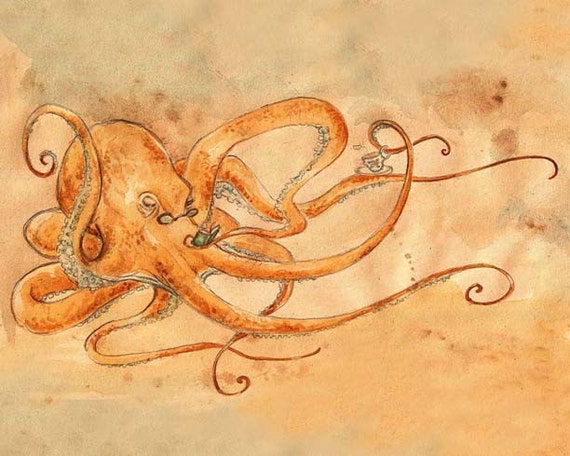 He is also reading a tiny book.
I wrote about the process of this painting
here
, at the very beginning of the blog.
I will share info on how to order the book once it's fresh off the presses! If you know anyone who likes octopi (and we all know someone, am I right?) it would make a great gift! And you can casually turn to my page and be all like, "Oh, haha, my friend Georgia is in this! Imagine that!" and they'll be way impressed and you'll be like, "Oh, I know all sorts of creative people." And I'll high five you from where I'm hiding in a nearby potted plant and we'll both be like "NICE!"
But seriously, this book is going to be awesome!