Right now I'm working on two paintings of woodland critters trick or treating! I just finished the first one with a squirrel witch, a chipmunk vampire, and a devilish hedgehog.
Trick or Treat!
Her tail was really fun to paint.
I kinda love him.
This hedgehog is just begging for a belly rub.
The sketch this morning.
This is the next sketch: skeleton skunk, pirate beaver, and ghost raccoon!
I should have the next one painted shortly. Poor Ryan has a terrible cold, and it's made for a very quiet afternoon. In between brewing him cups of tea I have been painting away. For his part, he's spending his sniffles playing
Planescape Torment
. It has me wanting to pull out my 2nd Edition
Planescape
manuals and lose myself in
Tony DiTerlizzi's
amazing illustrations. What a marvelously rich game that was! It was so detailed, and DiTerlizzi made the world jump off the page. Here's a sampling of his Planescape illustrations:
DiTerlizzi's take on a Bariaur.
All of his characters come
complete with personality (even the ladies, thank you very much).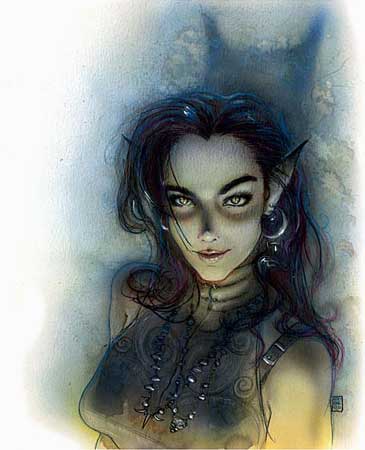 I read once he used a yellow
highlighter for this girl's eyes. Incredible.
Even the cities had their own personalities.
I already have to stop looking at these, or I'm going to get sucked into sketching warriors and dustmen for the rest of the afternoon.
One of DiTerlizzi's Dustmen,
clearly making her way to a Cure concert.