According to theknot.com there are 50 days left until our wedding, I have 188 to-dos to complete, I'm 99 to-dos overdue, and I'm just about the worst bride in the world. I'm not going to sweat it, as I kinda feel like theknot
is a chiffon lined layer of Hell where David's Bridal employees go after they die.
Today I'm writing about our location, easily the least popular decision about the wedding we've made. Except for Preston and Megan, who are all for it!
Ryan and I are from Rhode Island. We live in Washington. And we're getting married in California. Why, you ask?
I'm sorry, have you been to California?
In case you've never heard a rap song,
California
is the place to be. It's easily the most beautiful, laid back place either of us has visited. We both love southern California. We
visited Santa Monica back in April and adored the beach with its ferris wheel, carousel, and scary fortune telling robots
. We were discussing wedding plans while we were still sitting on the pier.

Santa Monica Pier Easter weekend.
When we got engaged Ryan and I already knew we wanted a small, simple ceremony. We don't have a lot of money to throw around, and to be honest that's a cop out: even if we did have the money we'd want something small. It's important to us that the day reflects our tastes and story, and let's face it: We're weirdos. You're not going to get 150 people who are comfortable with wrestling entrance music going off during our ceremony and Ryan stage fighting one of our friends (I'm 100% serious, he wanted to do that if we had a big wedding).
Initially we planned to elope and knew we needed two witnesses. Los Angeles is not only home to the out-of-this-world-delicious
Roscoe's Chicken and Waffles
, it's also where Ryan's sister Megan and my best bud Preston live!
Right now you need to stop reading this
and drive to the nearest Roscoe's.
As explained
earlier
, Ryan contacted Nathan Barnatt to marry us as Keith Apicary, and perfectly it turned out he was living in Los Angeles too! The stars were aligning:
But would our families kill us?

Nope! Luckily everyone has been pretty wonderful about it. Amazingly some close family and friends are even flying out to join us! And those that understandably can't make it have been supportive of our decision to have a small, simple ceremony somewhere gorgeous.

And the new just keeps getting better. Apparently California is the easiest place on Earth to get married. There's no blood test required and no wait on marriage licenses (though we're still going to get one a few days in advance). Santa Monica Beach's wedding rules are basically "first come first serve, don't build a stage or start a fire." OH NO, WHAT ABOUT THE STAGE I WANTED TO BUILD AND SET ON FIRE? MY WEDDING DAY IS RUINED.
The location and size of our wedding has raised the most questions, and hopefully this clears up some of the confusion!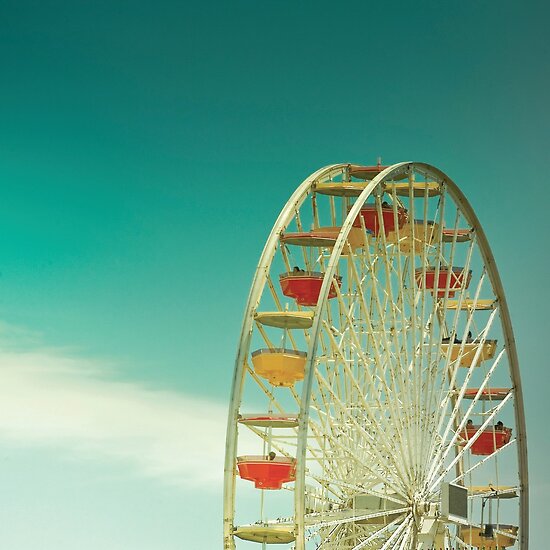 I have to confess, I'd really love to go around
on this at least once on our wedding day.
Photo credit: Cubagallery